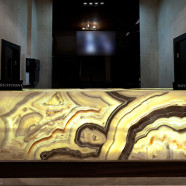 Dec

23
Tags
Related Posts
Share This
Granite, Marble, and Onyx Backlighting With LED Strip Lights
Translucent backlighting is a powerful tool for designers who want to create artistic, tasteful indoor environments. High quality bright lighting is key to achieving this look, and Flexfire LEDs strip lights definitely fit the bill. Using our strips to backlight onyx, granite, or marble panels maximizes the visual impact of these attractive materials in decorative wall panels, countertops, reception desks, floors and more.
To create granite, marble, or onyx backlighting, we suggest using LED strip lights that are evenly spaced behind the material to create an even, bright glow. Our strip lights are the brightest available on the market today, which is a good thing if you want people to notice your installation.
While many people use a professional contractor to perform this installation, it can certainly be done as a do-it-yourself project. Let's look at some of the key factors to consider if you want this look in your home or business.
First, LED strip lights run cooler than CFLs, and will be much safer to operate. Adding an aluminum heat sink will help the strips run even more efficiently, adding energy and cost savings to the list of benefits. LED strip lights are also smaller than CFLs, allowing more freedom to realize your design vision. Finally, LED strips can be cut, curved, and connected to fit any dimensions you have with little or no difficulty.
When backlighting translucent materials, the idea is to make it appear as though the sun is shining through them. Many will claim that you need to buy expensive, custom-made LED modules to achieve this look. You are certainly free to do so, but our affordable strip lights will work perfectly as they can diffuse the light and create an even glow.
Reliability is of course another important concern, as this sort of installation is not easily uninstalled or adjusted once in place. It makes sense to do it right the first time, with no-fuss lights that you can rely on for years to come. Flexfire LEDs strip lights are rated for 50,000 hours of use, built with top quality diodes and components that will provide beautiful backlighting for years, or even decades, into the future.
Do you need any help deciding which LED strip lights are right for your translucent backlighting project? Give us a call at 1-844-FLEXFIRE (1-844-353-9347) or shoot us an email to info@flexfireleds.com and we'd love to get involved!