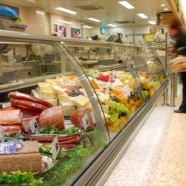 Aug

04
Tags
Related Posts
Share This
LED Strip Lights For Commercial Refrigeration And Food Display
As with many other businesses, the key to running a successful grocery store is to sell high quality, attractive products while maintaining low operating costs. Installing LED strip lights for commercial refrigeration and food display helps increase profit margins by increasing product appeal while also lowering operating costs.
Visual merchandising is known to have a strong effect on customer buying behavior, as shown in a study published by the International Journal of Engineering Science and Innovative Technology. The study found that 85% of customers sampled felt that attractive colors and lighting make them more likely to spend more time in a store. According to the researchers, respondents mentioned that effective lighting in particular helped them to "select the right products, reduce the time wasted and to feel relaxed" during their shopping experience.
If you want customers to buy food, you must make the food look appealing. Many conventional forms of artificial light fail to accurately reveal colors as they would appear under natural sunlight — but LED lighting is not a conventional source of light.
LED lighting: color as it was meant to be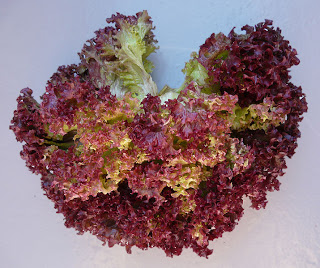 Advances in LED technology have vastly increased the level at which LED lights can faithfully reproduce colors.
Think about the decision that goes into buying a fresh mango. If the lighting source renders the colors of the fruit drab and lifeless, it's going to be a tough sell to get customers to fork over the cash for this pricey delicacy.
However, imagine those mangos under bright, natural looking, evenly distributed LED strip lights, which reproduce the fiery reds and energetic oranges in the precise manner they would be rendered by tropical daylight.
LEDs also make great accent lights to spotlight high-margin fresh food displays. Adding LED lighting to fresh produce displays will ensure customers don't pass those products by without at least considering a last minute addition to their shopping list.
LED lights keep it cool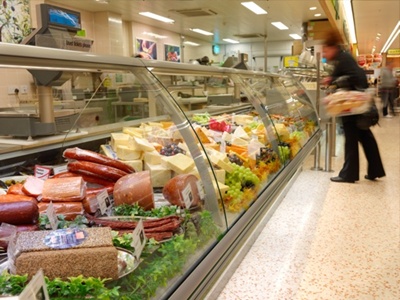 Cooling costs are a significant expenditure, so it is counterintuitive to have a lighting source that adds heat to your refrigerated space. But incandescent and fluorescent light sources do just that—making them a poor choice for grocery store refrigerated food lighting.
LED lighting is especially appealing for frozen and refrigeration displays because of the vast savings in energy costs—savings which go directly into improving a retailer's bottom line. Not only do LEDs produce less heat than other lighting sources, but they actually perform better and last longer in cooler locations.
Due to the efficacy of LED lighting in refrigerated displays, leading food retailer Walmart began a 500-store LED retrofit for reach-in refrigerators at retail outlets across North America in 2006. The 500-store installation represented an annual 35-million pound reduction of carbon dioxide emissions. That is the same as removing 3,143 cars from the road every year that the LEDs operate in place of fluorescent lighting.
Due to the company's success with LEDs in refrigerated displays, Walmart's vice president of prototype and new format development Charles Zimmerman told LEDs Magazine, "It's our hope that one day all our reach–in refrigerated display case lighting will use energy-efficient LEDs."
Replacing fluorescent tubes with LED strip lights reduces energy usage by 65% and a store can typically realize return-on-investment (ROI) after 2-3 years of using LED-lit coolers.
LED lighting: versatility makes for even illumination
One of the greatest things about LED strip lights is the degree to which they can be customized to the demands of each individual application. In freezer display case lighting, fluorescent tubes provide greater illumination output in total, but LEDs were found to vastly outperform the competition in uniformity of illuminance.
Fluorescent tubes spread diffuse light in all directions, leading to glare spots, hotspots and shadows, whereas LED light fixtures provide directional light and an even light application.
Furthermore, a survey published in a study by the Lighting Research Center found that over 80% of shoppers preferred LED freezer case lighting to fluorescent lamp lighting, saying it made the products more eye-catching and easier to read.
You can cut, curve, and connect LED light strips, or even attach a dimmer to adjust light temperature and brightness to achieve the perfect food display lighting you envisioned.
LED lighting: A clear case going forward
According to optics.org, in recent years, major food retailers including Walmart, Tesco, Kroger and Supervalu have all removed fluorescent lighting fixtures, opting for LEDs in their frozen food displays. These changes have yielded energy savings of up to 70%.
While LEDs have become something of an industry standard for frozen food displays, the next step is installation of the LEDs throughout the retail establishment, especially in the fresh produce and specialty display sections, where superior lighting will drive sales on your high-margin products.
How can Flexfire LEDs help?
Contact Flexfire LEDs to receive more information about our LED strip lights as well as remotes, dimmers and connectors. We are excited to discuss your LED refrigeration or food display lighting project!