Aug

25
Tags
Related Posts
Share This
Installing LED Strip Lights In Boats And Yachts
Looking to increase your boat lighting's functionality and/or "bling" factor? If so, you're not alone — we here at Flexfire LEDs get calls all the time with questions about installing LED strip lights in boats and yachts. So many in fact, that we've decided to share a few ideas and address some of the more common issues with this sort of installation.
Whether you're running a skipper or a barge, taking your boat out for pleasure or for fishing, LED strip lights are a great solution for low energy lighting that can be fully customized to meet the individual size and lighting demands of your boat.
The first thing to consider when looking into LED strip lights for your boat is to determine whether the lights will be exposed to environmental elements such as water or sand. If you're considering LED strips for your deck lighting, or perhaps outside of the hull, make sure the lights are rated for outdoor use and water protection.
Each of our LED strip lights has an IP rating that specifies the amount and type of protection it receives from the elements. IP ratings consist of two numbers — the first number refers to the amount of protection against solid objects, and the second refers to liquid protection. The numbers for solid object protection run from 0 (no protection) through 6 (full protection), while the numbers for liquid protection run 0 through 8. A fully waterproof LED strip light would thus have a rating of IP68.
For deck accent lighting, we suggest our colorful, customizable and versatile IP65 Outdoor ColorBright™ LED strip lights, which come in static red, green and blue, as well as remote-controlled color changing RGB.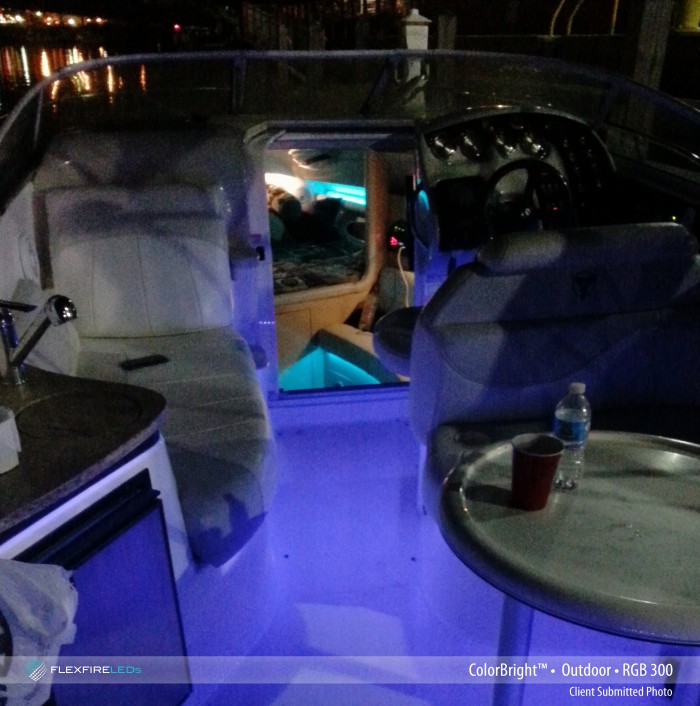 Many people call us looking to generate the attractive indirect glow they've seen on other boats. To achieve this look, we suggest mounting the strip lights along the underside of the deck's rail. This indirect lighting provides functional and appealing illumination, but won't disturb your vision with unwanted reflections or glare.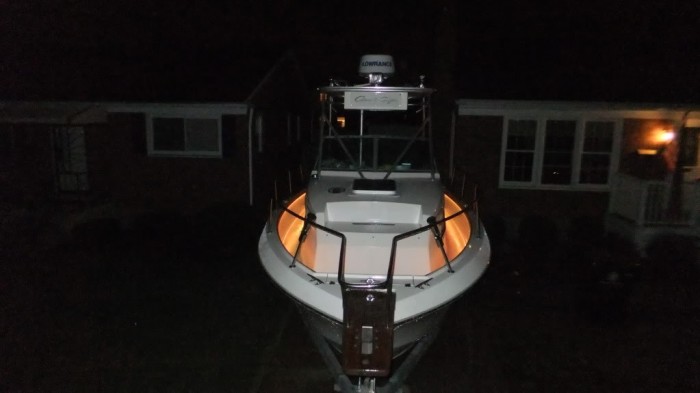 Also, mounting strip lights inside storage spaces provides discreet but effective lighting that will be of great help when looking for supplies at night. The compactness of LED strip lights means you can effectively light storage areas without taking up valuable space needed for your boating supplies.
For salon, wheelhouse, galley, or cabin lighting, non-waterproof LED strip lights will work great. Many LED strip lights only come with 300 lights per reel, but the majority of our lights come with at least 600, and some even 700 lights per reel! That's the kind of illumination you will really notice at night, cooking dinner for family in the galley.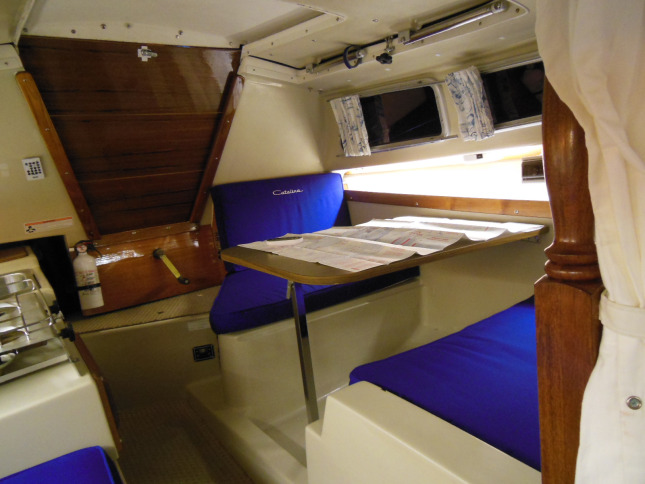 If you're looking for an attractive white light to replace inefficient, fragile incandescent or CFL in your cabin, we suggest our UltraBright™ LED strip lights. We've had great responses from boat owners who have used both the 12v Design Series and 12v High CRI Series of our UltraBright line. If you go with these lights, make sure to install an inline dimmer (with the possibility of soft-touch remote control), which will maintain the light's longevity and give you the ability to control brightness settings based on your temperament and mood.
For longer runs beyond 16 feet, or to cut and reconnect your strips to fit your boat's dimensions, you'll also need to order solderless connectors. The connectors plug into the ends of the strips, and will allow greater customization in your light display. If you need assistance, check out Flexfire LEDs' guide for installing solderless connectors to learn more about this process.
After installing the strips exactly where you want them, all you have to do is connect them to a power source. Most of our LED strips run on the same 12v DC current as your boat's battery, but in some cases you may need to look into a voltage regulator to make sure the lights are receiving the right current at all times.
Here are a few ideas for where you can install LED strip light in boats and yachts:
Deck lighting — placing strips under the rail is the perfect way to add both accent and functional above deck lighting
Storage lighting — install strips inside the storage bay to find what you need, when you need it
Cabin lighting — underneath cabin furnishings, within cove channels, or under counters work great for both task and accent lighting
Galley lighting — brilliant LED strip lights will dramatically improve your onboard cooking experience
Stair lighting — installing strips along stairs and ladders not only looks great, but will also help you avoid unnecessary accidents
Hull lighting — communicate with other boats or just add some style with color changing RGB or static colors
Dock lighting — add color to your dock with color changing or single color LED strip lights
Signage lighting — backlighting your boat's name is an excellent way to highlight its signature style
Still have questions? Visit us at flexfireleds.com and let one of our design/technical experts lend a hand with your boat or yacht LED strip light installation.