How To Install Under Cabinet LED Strip Lighting
Under cabinet lighting is one of the most common applications of LED strip lights. This relatively easy installation is a fantastic addition to any kitchen, office, or work bench area that would benefit from high quality direct task lighting. To illustrate this installation, we've put together this step-by-step tutorial on how to install under cabinet LED strip lighting.
For this tutorial, we reached out to a customer named Owen in Toronto, Canada. Owen was seeking bright, usable light in his kitchen that could be hard-wired to a standard wall dimmer, and told us he had been, "scouring the web off and on for three years" in search of the perfect solution. In the end, he chose Flexfire LEDs UltraBright LED strip lights in natural white after viewing some of our online installation videos and feeling comfortable with our product quality.
It's important to note that for this installation, Owen enlisted the help of a licensed professional electrician. This is something we recommend for all installations, as it ensures code compliance and avoids potential injuries due to improper handling.
Here is a "before" photo of his kitchen, using only the existing overhead lighting.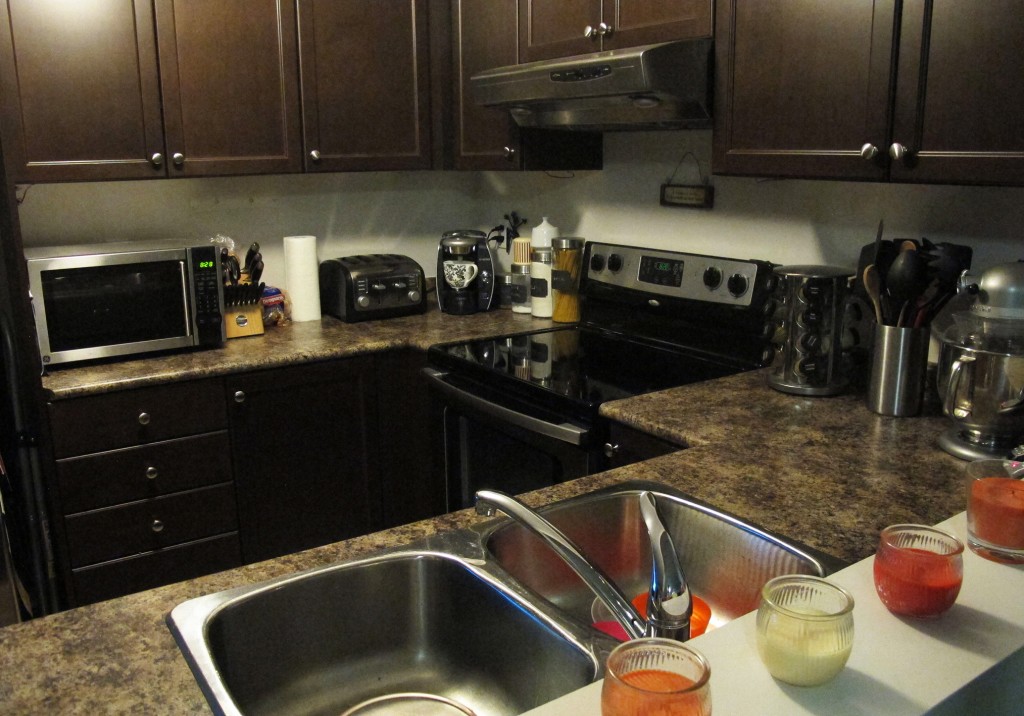 And now, onto the installation! In order to achieve proper brightness and even light distribution, he used our solderless connectors to run two parallel sections of LED strip lights under each of three cabinet sections. In the end, he felt that one single strip would have been more than enough, and this parallel run wasn't actually necessary. Also, note that the strip lights are very thin and low profile – the strips themselves are only actually visible when viewed from below as photographed here. As Owen says, "The low profile design means I don't even have to rush to add a valence."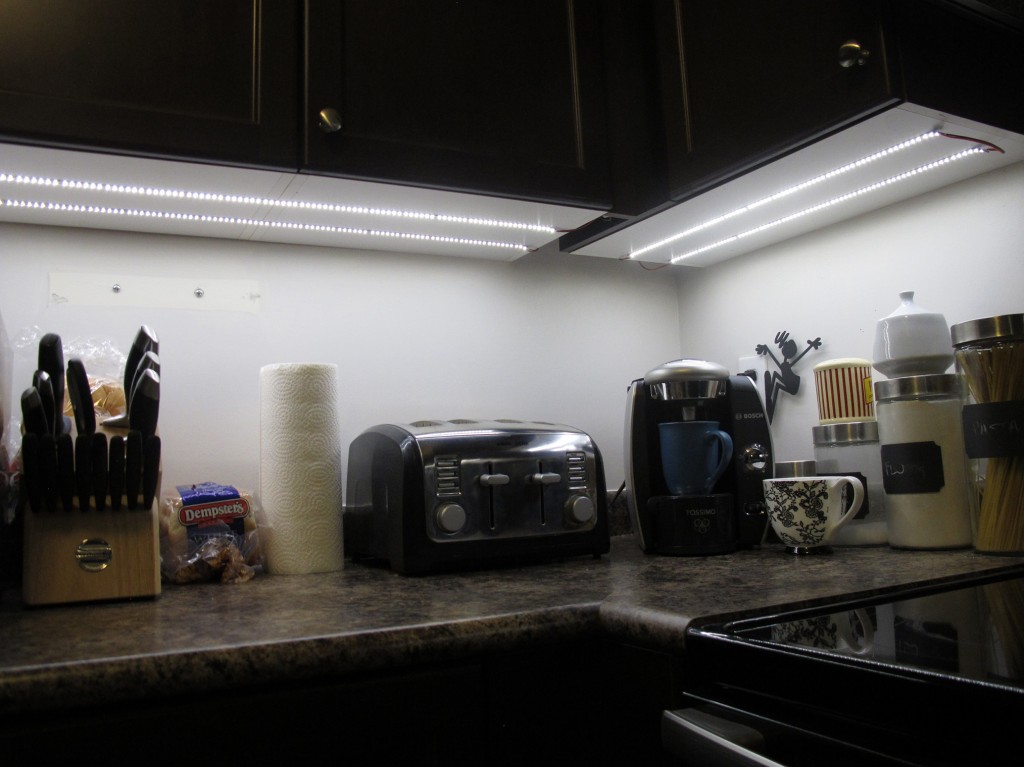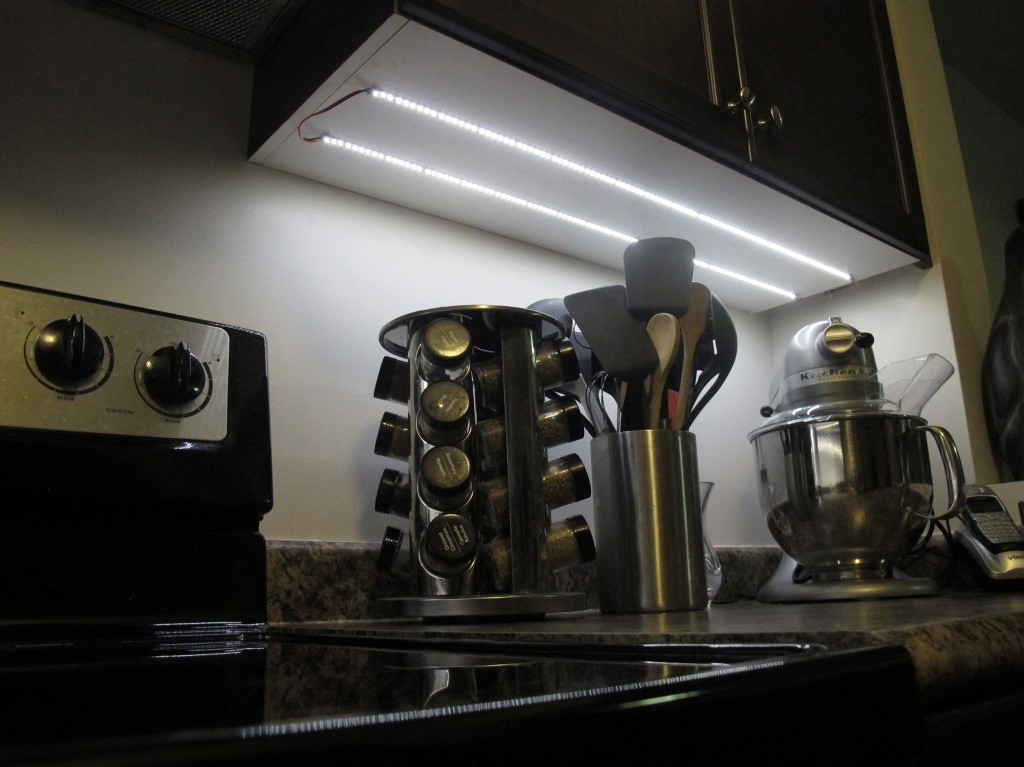 He drilled a small hole in the drywall below the cabinets, which he intends to cover with a tile backsplash. He then routed the wiring through this hole from the strip lights down into his basement. This is where he mounted his power supply, a 100-watt Zurik dimmable driver from Flexfire LEDs that would provide all the power needed for his strip lights. He mounted the driver onto a 2×4 in the basement directly below his kitchen, which keeps it hidden but still allows for easy access if necessary.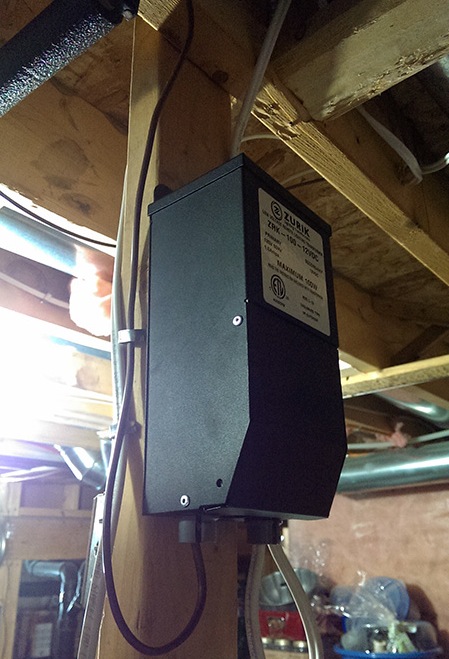 As for controlling the lights, there was a single electrical outlet on the other side of his kitchen. He simply turned this outlet into a dual gang box (basically one box that contains both electrical outlet and light switch), and installed a Lutron Diva dimmer. He then connected the dimmer to his driver in the basement. Here is the standard Lutron Diva wall dimmer Owen used, which is compatible with all LED strip lights from Flexfire LEDs. Make sure to confirm compatibility when combining dimmers with LED strip lights, as not all brands and models will work with one another.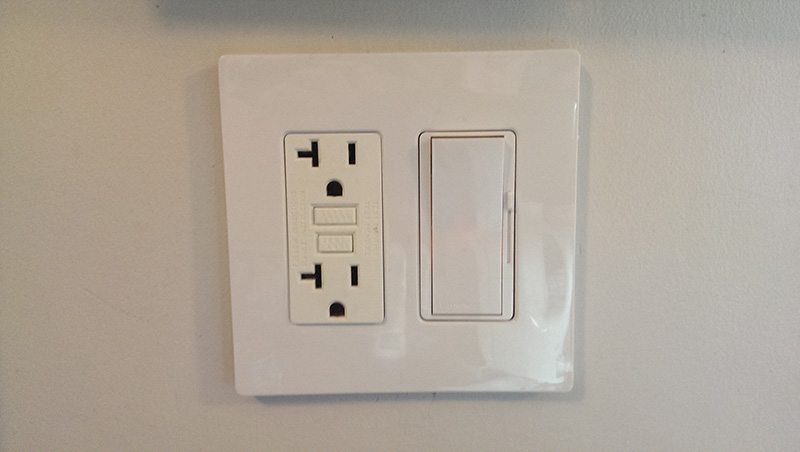 And… that's it! The completed installation provides terrific task lighting, making the countertop space more usable in addition to providing ample indirect lighting throughout the kitchen. In fact, Owen reports that these are the only lights he now uses in the kitchen, avoiding the overhead lights altogether. "We love the LED strip lights. They work very well with the dimmer I picked up, and the quality and quantity of light is fantastic."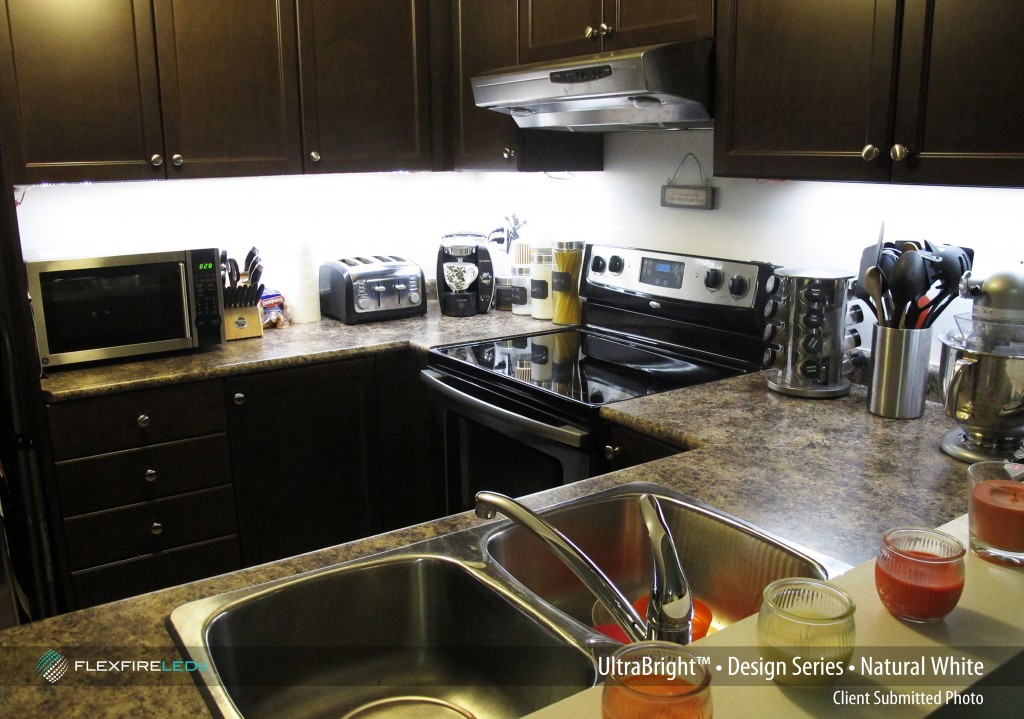 This relatively simple installation is a very popular application of Flexfire LEDs strip lights, and provides attractive illumination in almost any space. For more details on how you can install this in your home or business, please contact us at info@flexfireleds.com. We'll be happy to walk you through the process and help find the best custom solution for your project.
Click below to choose one of our convenient Flexfire LEDs strip light kits to suit the appropriate brightness, length and color of your LED under cabinet lighting project: