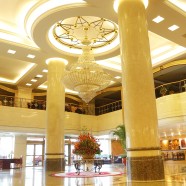 Oct

27
Tags
Related Posts
Share This
Hotel Lighting With LED Strip Lights
Hotel guests are quick to develop their first impressions, and lighting plays a crucial role in this process. Even if a hotel's interior design is well planned, ineffective lighting will throw a wrench in the entire presentation, leaving guests feeling uncomfortable and uninvited.
Advancements in LED chip technology have allowed for a whole range of attractive, efficient, cost-saving options for hotels, hostels and guest houses worldwide.
In this post we will explore some of these options for hotel lighting with LED strip lights in particular—focusing on lobbies, bedrooms, bathrooms, bars and restaurants, as well as pools and patios.
Hotel Lobby Lighting

Hotel lobby lighting strongly impacts a guest's initial impression of a hotel, setting the stage for a positive experience throughout his or her stay.
For luxury hotels or those seeking a sleek, modern feel, indirect cove lighting is an excellent choice. The technique involves running LED strip lights in ledges or recesses along the top edge of a wall or ceiling mounts, to shower indirect, evenly distributed light across the lobby. The technique is popular because of the high quality, even application of light it produces. It also conceals light fixtures, giving the lobby a more elegant, simplified feel.
For lobby wall decorations and artwork, use high CRI LED strip lights as accent lighting to render colors as vividly as possible, providing a particularly stunning presentation.
Hotel Guest Room Lighting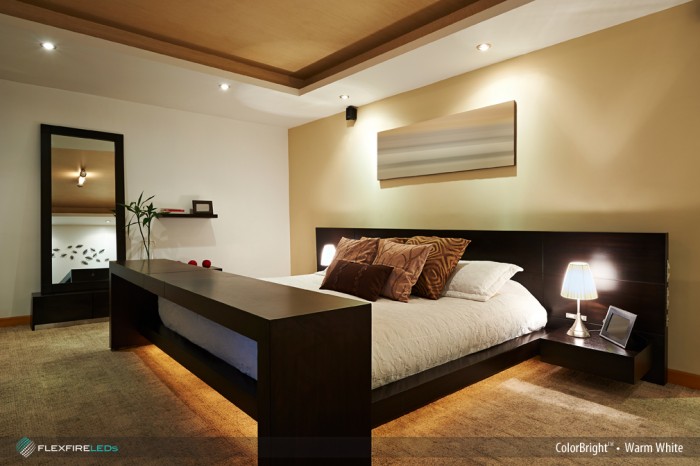 Guests at your hotel will remember the atmosphere of the rooms, and lighting is sure to play a critical role.
For hotel room lighting, as with hotel lobbies, indirect cove lighting is a great option because of the luxurious, elegant, and evenly distributed light it provides for your guests. Setting up LED remotes and dimmers in the room will give guests control of the lights' temperature and brightness, providing greater control over their particular mood or temperament.
LED strip lights can also easily be installed under room furnishings — such as beds, or cabinets and counters in rooms with kitchenettes — for an accented, distinctive and inviting bedroom feel that will make your guests feel comfortable.
Hotel Bathroom Lighting
Many hotels forget the importance that bathroom presentation has on guests. By creating a distinctive, romantic lighting atmosphere in the bathroom, you will allow guests to unwind and find a relaxing space at your hotel.
Use blue or green LED strip lights as accents under the cabinets and counters, along mirrors or in the shower and jacuzzi to create a relaxing atmosphere by tapping into the power of color psychology and the calming effect these "cool" colors have on the mind. Alternatively, you can install red LED strip lights to arouse a more passionate response.
Another option is to install remote-controlled RGB color changing LED strip lights to give your guests greater command over their bathroom lighting environment to suit their mood at any given moment.
Hotel Restaurant and Bar

LED strip lights can be cut, curved and connected to fit virtually anywhere in a hotel restaurant or bar. Draft your own plan or get the advice from an expert LED light designer to create a beautiful, distinctive, diffused lighting environment for guests to enjoy while they spend memorable moments dining at the hotel restaurant or bar.
The versatility of LED strip lights mean they work well underneath countertops, around barbacks and even tucked away into hidden corners and alcoves.
For restaurant kitchens, using the world's brightest LED strip lights will increase staff concentration and precision, helping the cooks to ensure the food comes out fast and that it comes out right, creating a first-class culinary experience for your guests to remember.
Hotel Pool and Patio Lighting

One advantage of LED technology is that the miniature light-emitting diodes can easily be encased and protected from outdoor elements—making them great for outdoor architectural displays, signs, around jacuzzis and pools, as well as bridges and other outdoor structures.  When choosing the correct outdoor LED light, it is important to take into account brightness as well as durability.
When making your choice, take note of the IP Rating. Each IP Rating has two numbers which range 1 through 9. The first number refers to protection against solid objects, while the second refers to protection against liquid objects. Our outdoor LED strip lights are fully weatherproof, built to withstand the elements.
Cut Operation Costs
LED strip lights are capable of producing in excess of 100 lumens for every watt of energy used. That means a huge amount of light delivered for only a small amount of energy required. Furthermore, LEDs last longer—delivering 50,000 hours of light while containing no hazardous materials. Contrast that with other "green" options such as CFLs, which typically last only 10,000 to 20,000 hours and contain mercury, a highly toxic water and earth contaminant.
Due to their versatility, customizability and quality of light produced, LED strip lights offer tremendous value for your next hotel lighting or renovation project.
Questions?
Do you have any more questions about LED lights? We'd love to provide you with expert advice on LED strip lighting possibilities whenever you're ready.
Contact:
Phone: 1-844-FLEXFIRE (1-844-353-9347)
Email: info@flexfireleds.com
Website: flexfireleds.com