Aug

18
Tags
Related Posts
Share This
Flexfire LEDs UltraBright Strip Lights at California's Long Beach Airport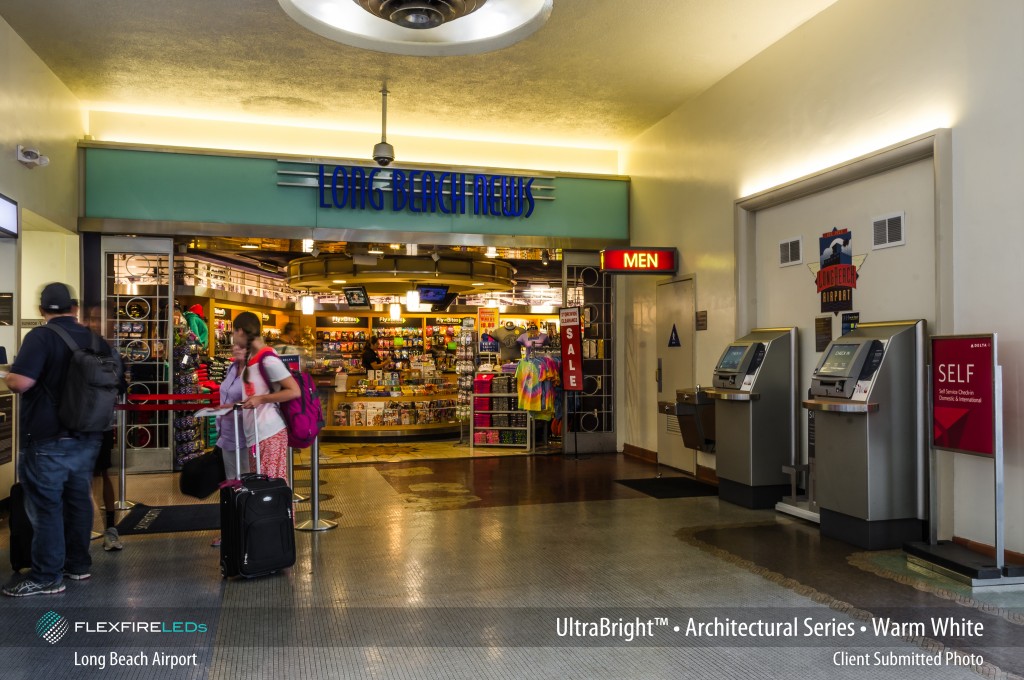 LED strip lights are renowned for their ability to produce attractive indirect light in a small package, which made them perfect for this installation at a historic and architectural landmark. Civil engineer Stephan Lum was placed in charge of the project, choosing to install Flexfire LEDs UltraBright Strip Lights at California's Long Beach Airport.
As part of a larger renovation effort, the plan was to update the airport's historic Art Deco terminal, which was originally built in 1941. Designers were keen to upgrade the terminal's lighting without disturbing its original design, which made it necessary to avoid the use of contemporary light fixtures.
Our high quality LED strip lights were a perfect solution; the strips themselves are hidden from view, and provide ample indirect light while also being highly durable and energy efficient. Our strip lights were installed above the check-in counters, into cove channels and in the airport news and gift shop to create a generous, inviting atmosphere for travelers on their way to their next flight.
Designers were thrilled with the results, opting to install additional Flexfire LEDs strip lights around trees in the airport's outdoor palm garden. Jeff Mills of Elec-Tech Electrical Contractors was placed in charge of this outdoor installation, attaching our Bright White UltraBright™ Outdoor Design Series Strip Lights to a dimmer for complete control of brightness level and energy usage. These outdoor LED strip lights feature IP weatherproof coating that protects them from water, dust, and other environmental hazards.
The tree display was originally intended for the Christmas season only, but officials decided to leave it up indefinitely after positive public response.
Check out more project photos below, or see the installation for yourself next time you're passing through the Long Beach Airport!