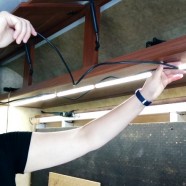 Jul

30
Tags
Related Posts
Share This
Customer Testimonial: Travel Trailer LED Strip Light Installation
Flexfire LEDs customer Don Bickley recently installed our ColorBright™ Natural White LED strip lights to provide task and ambient illumination in his unique travel trailer. Pleased with the product quality and service he received, Mr. Bickley felt inspired to write a rather thorough review on his blog. The review is part of a longer piece in which he provides great detail of his travel trailer LED strip light installation.
We've excerpted some of it for you here below; head over to Explore With Don for his full review.
Review Of Colorbright™ Natural White LED Strip From Flexfire LEDs, Inc.

I was creating a map board in my travel trailer (TT) and I needed much better lighting than what I currently had. This is a review on an LED light strip that I chose.

I installed the strip lighting under a cabinet for map board illumination in my TT cargo bay, and I installed 3 separate strips on the ceiling for general "room" lighting. At the bottom of this page is a link to my article detailing how I did this upgrade.

I never much thought of using LED strip lighting before, but I'm now solidly sold on the idea. The install went easily, quickly, and I'm very satisfied with the results.

There are many LED sellers out there, but I found FlexFireLEDs.com's LED Lighting Specialist Ruy Lopes very informative and pleasant to deal with. Never once did he make me feel like I was wasting his time. He answered my questions, gave me advice, and guided me along.

After much research (as always), I decided on FlexFire LEDs' Colorbright™ LED strip light; based on Ruy's recommendation, but also on the specs. They have light strips for nearly any type of application, whether that be for recreational, household, outdoor, or commercial needs.

Other facts that persuaded me:

Rated at 50,000 hours
Dimmable – if I ever need that feature
Pleasant, informative, and cooperative customer support
We'd like to thank Don for trusting Flexfire LEDs to help with his project, and for sharing so much detail that will surely be useful for others who are planning RV LED lighting installations. Be sure to check out his Explore With Don blog for more about this installation.