Jan

07
Tags
Related Posts
Share This
5 Different Ways To Use Color Changing Led Strip Lights
Flexfire LEDs ColorBright RGB Color-Changing Strips are popular for both home and commercial applications. In this post, we present you with five ideas for using color changing LED strip lights.
Waterside Color Changing LED strip lighting
Who doesn't like spending time by the pool or the lake during warm summer nights? Color changing LED strips are great for this purpose because the changing colors will boost the mood of your gathering, be it among friends or family. Make sure that the lights are rated for outdoor use and that they are water resistant.
Flexfire LEDs offers two choices for outdoor-rated color changing LED strips: ColorBright RGB 150 Outdoor strips and ColorBright RGB 300 Outdoor strips. The 300 RGB have double the amount of LED diodes per reel and produce twice as much light as the 150 RGBs.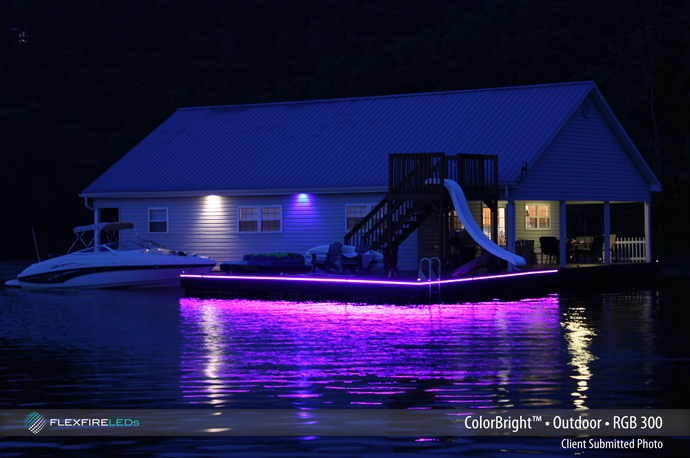 Living Room Color-Changing LED strip lighting
Color changing LEDs in the living room are a great way to start a party, or set the mood on a date. Or to help you find your "happy place" after a stressful day at work. Did you know that light color has a significant effect on on our moods? That means putting color changing lights in the living room will give you greater control not only of your lighting environment, but also of your mental state.
While many people come to us in their search for colorful lights, they would like a "white light" option as well. For these clients we suggest our ColorBright RGB plus Warm White strips. Using a remote, users switch between warm white setting and the RGB color-changing setting. The result of this amazing pairing is beautiful and allows for an unparalleled degree of personal customization.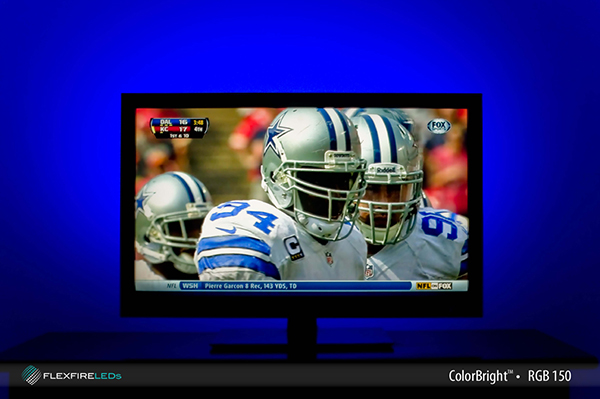 Stage Color-Changing LED strip lighting
Most people write off strip lights for stage lighting purposes because they don't believe they'll be bright enough. But that's only because they haven't heard of Flexfire LEDs ColorBright RGB 300 strips. With double the brightness compared to most other color changing LED strips, these lights will shine through the crowd, leaving a great impact on your audience.
Here is an example of our ColorBright 300s in action at a client installation. The ColorBright RGB 300 strips pictured here are controlled via DMX decoder attached to a grandMA2 controller, which gives the lighting designers a dazzling array of visual options.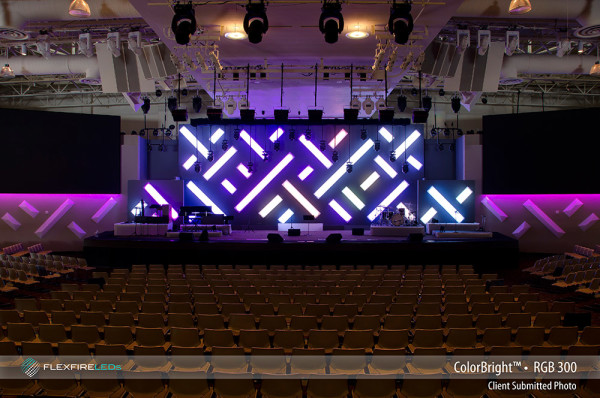 Bar and Casino Color-Changing LED strip lighting
People come to the bar and the casino to have a good time. Why not enhance their experience with a creative lighting design? Install color changing strips under counters, along shelving or in wall coves to produce the light you're looking for. Exciting illumination will attract clients in off the street and improve their experience when they visit your establishment.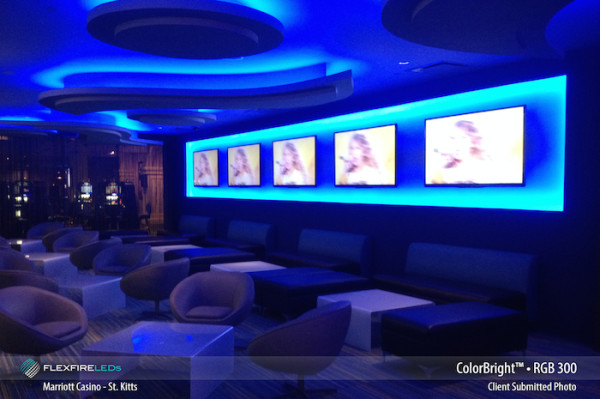 Boat and Yacht Color-Changing LED strip lighting
Color-changing LEDs are the perfect solution for boat lighting. Use them in the hull to send signals to other boats on the water or just add some creative flair. We've also had clients install our lights on their docks. Another option is to install the lights on the boat's sign to add signature style to your vessel.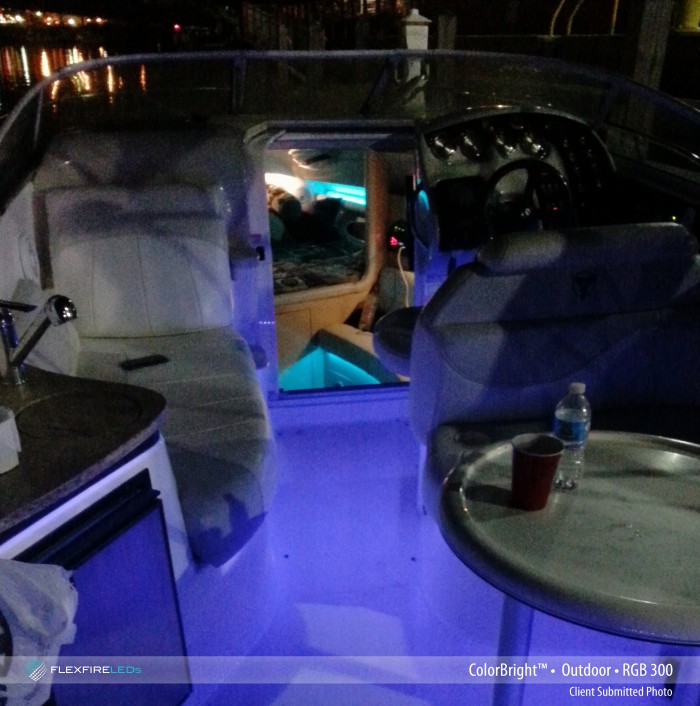 We love the opportunity to provide clients with the LED solutions they need. It's such a pleasure for us to see our strip lights installed in the countless innovative and sustainable projects that are developed every single day. Your vision is what inspires us to do what we do!
Do you need any help deciding which LED strip lights are right for your commercial, industrial, or home renovation project? Give us a call at 1-844-FLEXFIRE (1-844-353-9347) or shoot us an email to info@flexfireleds.com and we'd love to get involved!