Tags
Related Posts
Share This
Kitchen Lighting: 5 Ideas That Use LED Strip Lights
"There is too much light in this kitchen," said no one ever.
Many homeowners have found that adding more kitchen lighting dramatically improves their ability to prepare meals and enjoy time in the kitchen, a room that is often referred to as the heart of the household. Just as there are many ways to bake a cake, there are many ways to improve kitchen lighting with LEDs.
In this post, we will walk you through a few popular options for improving kitchen lighting using LED strip lights.
Under Cabinet Lighting
Probably the most common application of LED strips in the kitchen is under cabinet lighting. With Flexfire LEDs strip lights, adding attractive task lighting is as easy as one-two-three. Start by peeling off the paper backing. Then attach the highly adherent adhesive to the bottom of your kitchen cabinets. Finally, plug them into a power source and voila, we've got light!
It's nearly that easy, but of course if you have questions about installing under cabinet lighting (such as what kind of power supply you will need or how to install a dimmer), our on-call design specialists would love to lend a helping hand. For this sort of installation, we generally suggest our UltraBright™ Architectural series, which comes in three different color temperatures of white — warm, natural and bright. Also, consider installing an LED dimmer for further user control.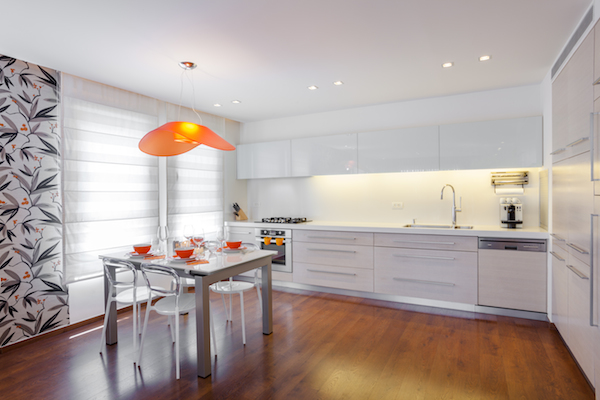 Above Cabinet LED Lighting
Above cabinet lighting is an incredible solution for those who love the healthy, generous glow and sleek look of indirect lighting designs. Attach versatile, discreet LED strip lights to the top of any cabinet to provide a beautiful indirect light source without any visible wires or components. Adding high quality, indirect light will bring the kitchen to life; it's a look favored by top kitchen lighting designers that is both tasteful and contemporary.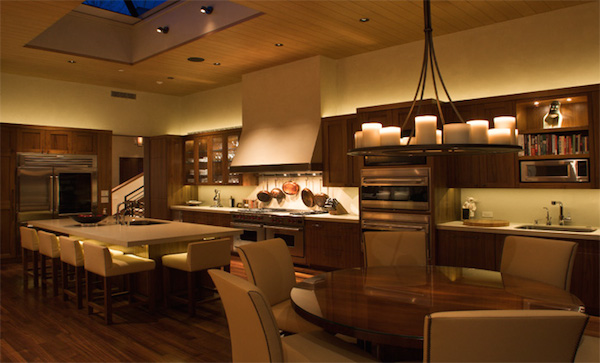 Under Counter LED Lighting
Popular in bars and restaurants, the technique of under counter LED strip lighting is also catching on in home kitchens. After installing under counter lighting, many of our satisfied clients rave about the personality and warmth they added with this simple installation. Flexfire LEDs UL Listed UltraBright™ and ColorBright™ series LED strip lights come in a variety of colors and light temperatures and make a great match for the lighting needs of any kitchen lighting plan. The light provided by our UltraBright™ Architectural series Warm White strips is perfect for bringing family and friends together into the heart of a home.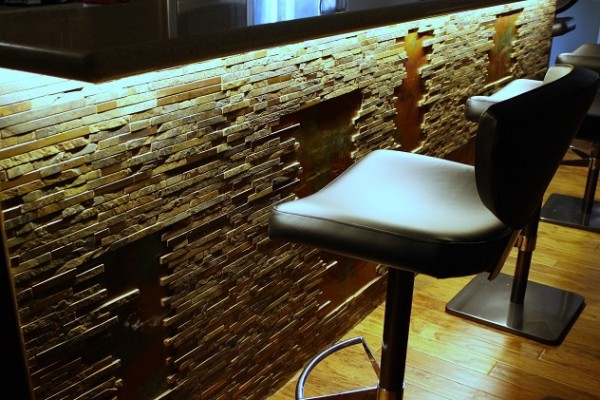 LED Shelf Lighting
LED shelf lighting is a clever solution for those who have trouble finding what they're looking for when searching the shelves for cooking instruments and food. This is another easy installation, a unique solution that has drawn rave reviews from our clients. The LED strips really help solve a problem by letting people avoid frustration and redundancies as they organize and utilize their kitchen shelving space. In fact, this is such a clever idea, you could even call it a "life hack."
We suggest UltraBright™ Architectural series Bright White strips as a great solution for those interested in installing LED shelf lighting.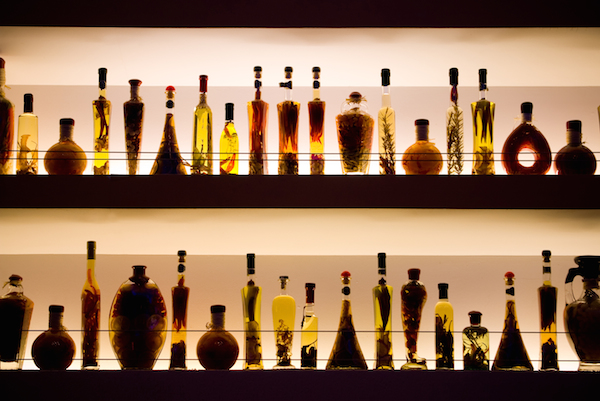 LED Kickboard Lighting
LED kickboard lighting is great for the artists and creative people among us. This accent lighting found at the foot of kitchen counters is mostly used for accent lighting, although some people find it is helpful in general kitchen navigation. We've seen some really creative applications of kickboard lighting, and we always look forward to seeing what clients will do with our lights. This sort of installation is also a great way to experiment with our top quality color-changing RGBs – using a remote control, the kitchen mood can be changed dramatically with different colors of floor lighting.
Our 300 LED RGB color-changing strips are perfect for kickboard LED lighting because they provide color options as well as exceptionally bright light. Many RGB strips have only 150 LED diodes per reel; Flexfire LEDs 300 LED strips provide double this amount, for double the amount of available light.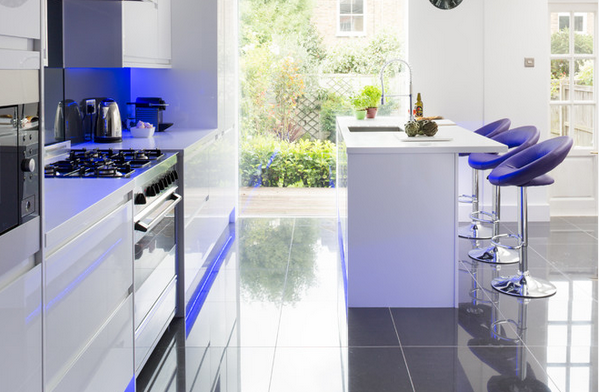 We love the opportunity to provide clients with the LED solutions they need. It's such a pleasure for us to see our strip lights installed in the countless innovative and sustainable projects that are developed every single day. Your vision is what inspires us to do what we do!
Do you need any help deciding which LED strip lights are right for your commercial, industrial, or home renovation project? Give us a call at 1-844-FLEXFIRE (1-844-353-9347) or shoot us an email to info@flexfireleds.com and we'd love to get involved!