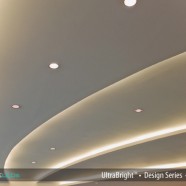 Sep

29
Tags
Related Posts
Share This
4 Indirect Lighting Ideas Using LED Strip Lights
Many people come to Flexfire LEDs with an interest in using LED strip lights for an indirect lighting project. Using indirect light is a vast aesthetic upgrade over cold, direct overhead light, and by using LEDs you will save on energy costs while living a more responsible and sustainable lifestyle. Here then are four indirect lighting ideas to add focus, texture and layering for your next home lighting redesign.
Above and Under Cabinet LED Lighting
Does your kitchen lack good lighting? With LED strip lights, also known as "tape lights," adding beautiful, bright, indirect lighting to your kitchen is easier than ever. With our strong adhesive-backed strips, kitchen light remodeling is now a DIY project. Our experts can help walk you through the installation process, so you can easily attach lights where you want them, without any visible wires or components. Adding strips to a kitchen will add character, color and effective task lighting to the space you use to prepare and enjoy meals on a daily basis.
For under and above cabinet lighting, we suggest our UltraBright™ Architectural series, which comes in three different color temperatures of white — warm, natural and bright.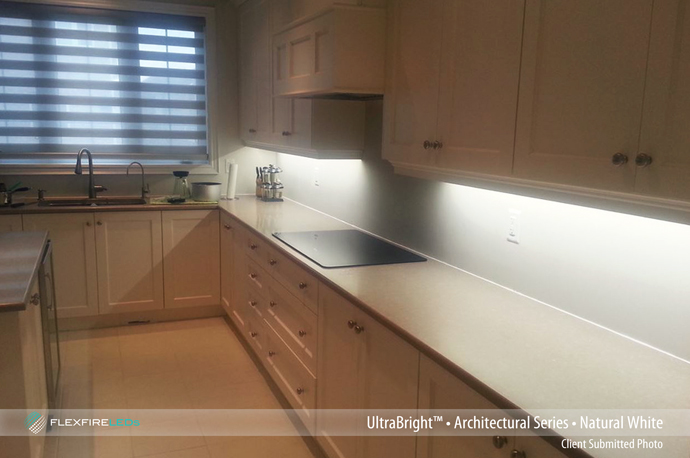 Under Counter LED Lighting
Indirect, under counter LED lighting is a great way to add lighting appeal to commercial and residential spaces. Popular in bars and restaurants, the technique is also used at home to add flash, personality and warmth to home bars and kitchens. Adding RGB remote-controlled or single color strips  is great for parties and giving the lighting setup a creative flare. Also, consider adding light strips under the counter kicker for floor lighting in kitchens and bathrooms.
Flexfire LEDs' UL listed UltraBright™ and ColorBright™ series LED strip lights come in a variety of colors and light temperatures to match the needs of any space. The light provided by our UltraBright™ Architectural series Warm White strips is perfect for bringing family and friends together into the heart of a home.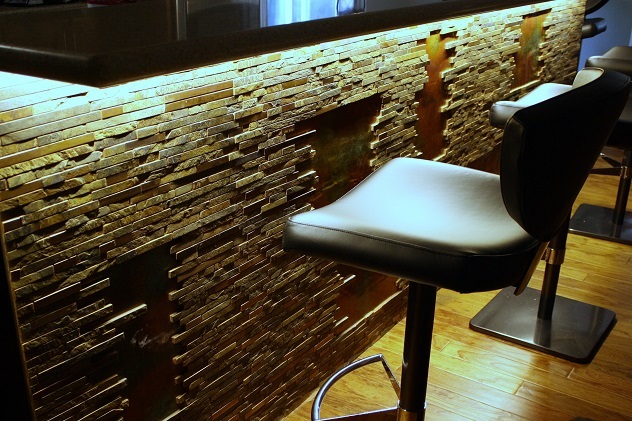 Stairway and Walkway Lighting
Traditionally, stairway lighting has been overlooked due to the perceived high costs of installation and energy demand. However, thanks to efficient, easy-to-install LED strip lighting, stairway lighting has become a truly viable option. Stairway and walkway lighting not only looks great, but it also adds safety to the home. For a beautiful indirect glow on your stair steps, simply run the strips under the treading to add your signature look.
Below you can see an example of our ColorBright™  Warm White series lights installed in a wonderful display of stairway lighting.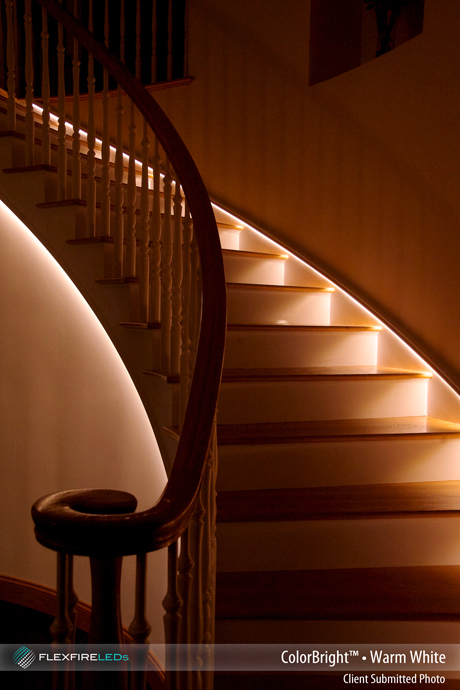 Cove Lighting
Running LED strip lights along ceiling and wall coves will envelop your bedrooms, hallways, living rooms and any other rooms in the house in a glowing cascade of light. Many modern designers choose indirect cove lighting because it hides fixtures and gives off a pleasurable, easy to look at, evenly distributed light. Indirect cove lighting gives texture, layering and depth to your light design.
For indirect cove LED lighting, we recommend our UltraBright™ Design series available in warm, natural and bright white. If unsure about how much light you will need, we suggest going brighter because the lights can always be attached to a dimmer to bring the brightness down wherever you feel is desirable based on your mood and time of day.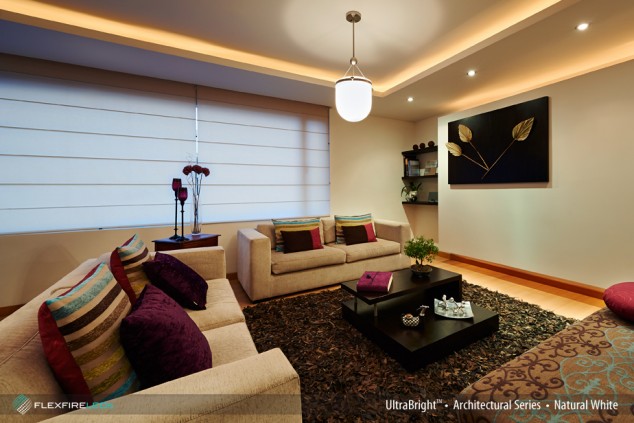 Questions?
Do you have any more questions about indirect lighting ideas or LED light strips? Please contact us a info@flexfireleds.com and we'll send a design specialist your way.